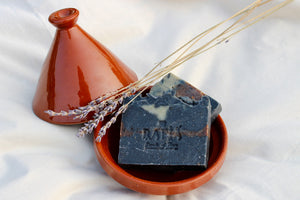 Our activated charcoal soap works like a magnet, gently drawing out impurities and toxins. Charcoal helps to reduce acne for a clear complexion without drying the skin giving you a complete purifying, cleansing and detoxified skin.This soap is suited for normal, problem, and combination skin types. For sensitive skin, try a test patch on your inner arm first. Use once to twice daily. Rinse skin well and gently pat dry. Keep soap dry between uses! Each bar is sustainably packaged in a recyclable Kraft paper bag.
Targeted ingredients:
ACTIVATED CHARCOAL -

  H

elps balance and tone the skin's appearance by drawing out excess oils
BENTONITE CLAY - Also known as Aztec clay or volcanic ash; can reduce the appearance of acne scars, calms itchy, inflamed skin and fights stubborn

acne. It also soaks up oils and sebum that can clog pores.
COLLOIDAL ORGANIC OATS - Simply grounded oats to a fine powder to create a fine flour which helps the grain to easily absorb and mix with our carrier

oils. Colloidal oats soothe dry, irritated skin and restores skin's healthy pH balance.

LAVENDER ESSENTIAL OIL & HERB- A classic soothing, floral aroma distilled from a truly classical herb which has been used medicinally for thousands of

years. Some benefits of lavender include calming, anti-bacterial, anti-fungal, antioxidant, and anti-inflammatory properties. Improves skin, reduces acne and soothes irritated skin.
JUNIPER BERRY ESSENTIAL OIL & DRIED BERRIES - Used in skincare, juniper oil acts as a natural skin toner and reduces the appearance of skin blemishes, fungus, promotes a clear and healthy complexion. It can also aid skin conditions that occur due to hormonal imbalance. Dried Juniper berries add exfoliating properties to the soap.
NOURISHING INGREDIENTS - Organic oils of Olive, Coconut, castor bean with unrefined Shea butter condition the skin, leaving it soft, cleansed,

nourished and glowing.
Recommendations:
Cutting the soap bar in half, helps maximize the life of the soap. Store the other half in a cool, dry space, until ready to use!

Ingredients: 

Saponified organic oils of olive, coconut, Moroccan argan, castor & black seed with African shea butter, activated charcoal, bentonite Aztec clay, Moroccan Atlas ghassoul clay, colloidal organic oats, dry juniper berries, dry chamomile and essential oil blends focusing on doTerra's geranium and peppermint. 
Unisex
Face and body
For all skin types
Made in California
100% Natural - Vegan - Cruelty Free
For maximum bar life, the soap should dry between uses
 (3.5 oz)